November 6-9, 2008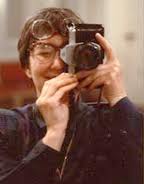 Costume Colloquium I: A tribute to Janet Arnold was an international interdisciplinary symposium on historical dress, costume for performance and contemporary fashion. All facets of dress and fashion history, design and interpretation were explored, and the colloquium provided a stimulating platform where participants exchanged ideas and information.
The range of perspectives included art history, social history and textile conservation; designing costume for the performing arts and living history; as well as the use of historical dress as inspiration for contemporary fashion.
The key figure in this interdisciplinary exploration was Janet Arnold – dress historian, artist, fashion designer and teacher – who pioneered research into the cut and construction of clothes from the 16th to the early 20th century. Her studies revealed invaluable information on the clothing of the past, and her publications on the sartorial details and patterns of historical dress continue to have a profound impact on many disciplines and institutions, academic and creative. Her patterns and drawings remain a primary source for designers of costume for the stage, film and television, and her research proves indispensable to art historians interpreting portraiture and genre painting, as well as to conservators for the physical analysis and identification of surviving dress.
For over a decade, Janet Arnold collaborated with the conservation department of Palazzo Pitti's Galleria del Costume in Florence, contributing her expertise on historical dress. There she actively participated in the lengthy and difficult process of documenting and conserving the 16th century burial clothes from the Medici tombs, writing several publications and giving many lectures about the project.
On the 10th anniversary of her untimely death, it was appropriate that Florence – city of art, fashion, theatre and so much more – was host of this special symposium as a tribute to the high professional standard of Janet Arnold's work.
The topics examined varied from the analysis of clothing in burial finds and the interpretation of dress in documents and visual images, to the re-creation of historical dress and contemporary fashion design, incorporating both theoretical and practical perspectives on these subjects.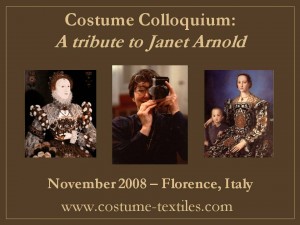 Click here to view the PDF Presentation of Costume Colloquium I